Murchison falls national park Uganda.
Murchison falls national park This is The oldest, biggest and largest Park locally known as Kabalega National Park. you'll find it at the end of the Albertine Rift Valley. From Kampala, it takes about 4-6 hours (305 km) to drive to Murchison Falls National Park headquarters at Paraa (85km from Masindi). The most direct route from Kampala is through the southern gates by road or flights.
Murchison Falls National Park, also called Kabalega National Park, is located in northwestern Uganda, established in 1952.
It occupies an area of 1,483 square miles (3,840 square km) of rolling grassland east of Lake Albert. The Victoria Nile bisects the park from east to west and travels through a rock (7 metres) wide over a cascade (43 metres) high to form the Murchison Falls. The eastern boundary of the park is Karuma Falls. It's known for Murchison Falls,& wildlife. while, chimpanzees are in Kaniyo Pabidi mahogany forest
The Lake Albert Delta is a home to rare shoebill storks. There are game fish in the cascades of Karuma Falls. Murchison Falls National Park is the largest park in Uganda covering an area of 1,503 square miles as well as having the most powerful waterfall in the world.
After Roderick, Sir Samuel Baker.
Every second, the equivalent of 200 bathtubs full of water is forces through a gorge less than seven places wide. The pressure is so great that the ground trembles around it. Later on, it was again explorer Samuel Baker and his wife Florence Baker who named it Murchison falls after the geologist Roderick Murchison in 1863 to 1864 and who was the president of the Royal Geographical Society by then.
Murchison Falls, at a glance! First founded as a wildlife reserve in 1926, people travel from all over the world to witness 76 species of mammals including four of the "Big Five and 451 species of birds" seen while on the Uganda wildlife & activity holidays.
Wildlife in Murchison falls
The animals in Murchison falls national park are often seen while on a boat safari and also during game drives in the park. Such animals are;
 Giraffes,
Buffaloes,
Uganda Kobs
Bushbucks
Elephants
Hartebeests
Oribis
waterbucks
warthogs
hyenas mention but a few.
other primates in the Budongo forest
Apart from the big five, there also primates in the park including chimps, baboons, vervet monkeys among others. You'll  find them in Budongo  forest reserve. The reserve lies in the southern extension of Murchison falls National Park, which is considered the largest & biggest national park Uganda has, covering over 3,840sqkm. The Nile corridor offers permanent water for these animals and lots of water birds which include the rare shoebill stork as well as Uganda's biggest population of Nile crocodile.
Yet the African elephant can grow up to 14 ft. in height and 30 ft. in width, they mainly live in tropical forest, savannah, woodlands, rivers and wetlands, they provide homes for 76 different mammal species and 450 different bird species of Murchison falls national park. The elephants in Murchison falls park live in large groups of about 100 animals called herds. The herds are led by a female member; something different in the wild.
Activities in Murchison Falls National Park
There are so many activities that will make your Uganda tour a memorable one. Among these include bird watching, the Launch cruise and game drives. The Boat trip around Lake Albert will give an opportunity to see all the different types of bird species more particularly the rare shoebills. The Rabongo Forest and Budongo Forest are spots for Chimpanzee Tracking Safaris and guided Nature walks. Due to the good road conditions within the park, tourist will enjoy the game drive especially during the best time to visit Murchison Falls National Park and this will give you a memorable experience. The most common activities are;
Boat cruise tours in Murchison falls park.
The bottom of the falls boat cruise is the admired activity by the visitors on Uganda tours in Murchison falls. it is a 3-hour return boat cruise & it has been the national park's most famous attraction. this 20km cruise downriver to the lake albert delta is favored by birders as one of the best opportunities to see the rare shoe bill, particularly during the rainy season.
Birding tours in Murchison falls national park.
birders are able to watch birds all year round though the best time is during the dry season in months like January to march, this is a low season in Uganda but birding is bountiful. they can be best spotted while doing a game drive, nature walks through savannah grasslands & on the boat cruise along the Nile, on lake albert delta & it can also be done while hiking.
Hiking to the top of falls.
hiking the top of the fall trail is about 45minutes from the bottom of the falls. The trail is not so steep so it can be done by everyone. while, the hike is some rejuvenating activity that helps your joints stress out & blood run thoroughly through all your veins. Furthermore, as you reach the top of the fall, beautiful it is tranquil as you feel the droplets of water falling on your face to cool you off. it will expose you to mother nature's wondrous gorge which is the most invigorating view in Murchison falls national park.
Nature Walks & hiking.
nature hikes trail to the top of the falls that lasts about 45mins walk to the top of Murchison falls & this nature walk experience will always leave you wanting for more as you become mesmerized by the dramatic & spectacular scenery created by the falls.
Hot air balloon safaris in Murchison Falls Park.
Hot Air Balloon Safaris in Murchison Falls National Park
last for about an hour after which the balloon lands and guests receive their participation certificates. On the way back a mini safari tour is provided depending on the landing position. The trip ends at around 9:00 am.
For any visitor interested in a full package, you'll simply continue to the bush breakfast location secured by UWA armed rangers. Thereafter, you'll proceed for this full package trip that ends at around 9:00-10:00 am. However, you'll move back to your pick up location. Meanwhile, the Sunset program starts at 1600hrs and ends at 1800hrs without bush dinner.
Sport fishing.# Murchison falls national park
However, for those interested in sport fishing during the tour in Murchison falls, they will need to carry their fishing equipment and keep in mind all fish caught shouldn't be killed but to be put back alive.
Cultural encounters.
The local cultural groups perform interesting traditional songs and dances most especially in evening hours around the lodge campfire, the traditional instruments they use are made of cowhide and twine and harmonies of different sizes and accompanied by the unique sound of the Adungu.
Game drive tours in Murchison falls park.
Game drive is one of the major activities in Uganda where visitors get an opportunity to explore the savannah plains in a comfortable 4WD pop up safari vehicle for clear viewing of animals with a professional driver guide who is well conversant with different game tracks.
Attractions in Murchison falls park
Paraa is one of the top attractions in Murchison falls national park where all routes connect both northern and southern banks. Paraa derives its name from a local Luo word meaning "home of hippos". other attractions include;
primates
birds
large mammals
Karuma waterfall
kaniyo Pabidi forest
Budongo forest
Uganda Safari Lodges and Accommodation
The safari lodges come in luxury, mid-range and budget facilities. Some of the accommodations are on top of the falls, while others are in the Conservation Area. They include Nile, Paraa, as well as Chobe safari lodges in Murchison falls national park.
There is a number of hotels near Murchison Falls National Park such as Masindi Hotel. For the budget travelers there is budget accommodation available among which are Kaniyo Pabidi Camp.
Paara Safari Lodge
This lodge is well known for its luxurious and comfortable accommodation. It has about 54 beautiful rooms with en-suite bathrooms as well as balconies for a perfect view of the Nile.
Simbiya Safari Lodge
This is positioned in the glorious Murchison Falls National Park. It has accommodation that will favor all tourist. The lodge is located within and it takes only 15 minutes to get to Murchison falls.
Nile Safari Lodge
This lodge is suited on the southern banks of river Nile surrounded by the well-to-do papyrus forest. Nile Safari Lodge is designed with beautiful wooden chalets along with lavishness tents that are located in a perfect area to give an amazing view of the park along with the African wilderness.
Red Chilli Rest Camp# Murchison falls national park
Red Chilli rest camp is well known to be a financial plan camp, that is located within Murchison falls national park adjacent to the south bank of the River. The camp is mainly for budget travelers.
Geo Lodges Shoebill Camp Site
Tourists if interested can carry their own tents for camping & then hire food service providers. Furthermore, the site restaurant is also just a three minutes drive from the main lodge. It is one of the best place to get accommodation from Murchison falls national park as it has breathtaking sceneries of the Nile where tourists can relax in the evenings after long game drives, & enjoy the sparkling African stars in the wild night, waking up upon the chattering of birds in the morning giving you a real wilderness experience.
Yebo Safari Camp# Murchison falls national park
The rooms at the camp are simply well furnished with African traditional architecture. Tourists sleeping at Yebo safari camp can be entertained by a group of local dancers in the evenings & have areal feeling of being in an African homestead, tourists interested in camping can hire the tents or use their own.
Chobe Safari Lodge
Chobe Safari Lodge offers a unique opportunity to sample the wildlife, birds, flora and fauna; all in an area of the park that will soon discover. This area will revive this newly refurbished lodge to become one of the best fishing destinations in Africa.
Murchison Safari Lodge# Murchison falls national park
This lodge is cheap to hire/stay with about 12 en-suite rooms, well furnished with comfortable beds, en-suite bathrooms with hot showers from solar heater. The accommodation is in the midrange and budget safari plan with beautiful & thatched tents.
Boomu Women´s Group Bandas
The lodge
offers a cultural experience & blends well with the environment and also prevents effect of power on the park by using solar power.
The restaurant prepares delicious meals for breakfast, lunch and dinner and there are a range of drinks at the bar.
From the lodge, guests head out for chimp tracking in just few minutes at Pabidi forest and take a short drive to Paraa for boat cruise, to the northern side for a game drive and nature walks around the park.
Budongo Eco lodge# Murchison falls national park
Budongo Eco Lodge is a mid-range and budget accommodation facility located in Budongo Forest Reserve at the Kaniyo Pabidi ecotourism site, in the south of Murchison Falls Park. It is the only accommodation where you can carry out Chimpanzee tracking and bird watching. It is a wonderful place to stay and feel so close to nature.
Mama Washindi Lodge (Pakwach East)
Set 12 km from Pakwach, Mama Washindi Lodge offers accommodation with a restaurant, a garden and a shared kitchen for your convenience. The bed and breakfast features both Wi-Fi and private parking free of charge. Everything, the place is amazing and the staff are super kind dotted with excellent customer service. They really go the extra mile to make your stay unforgettable! God bless them all!
Heritage Safari Lodge Pakwach East# Murchison falls national park
Situated in Pakwach East, 8 km from Pakwach, Heritage Safari Lodge features accommodation with a restaurant, free private parking, a bar and a shared lounge. Featuring a garden, the property is located within 13 km of Kapita. The accommodation provides a 24-hour front desk, airport transfers, room service and free Wi-Fi throughout the property.
Murchison Falls Bamboo Village (Murchison Falls National Park)
With garden views, Murchison Falls Bamboo Village is situated in Murchison Falls National Park and has a restaurant, room service, bar, garden and terrace. Both Wi-Fi and private parking are accessible at the lodge free of charge.
Bugungu Wildlife Reserve is 34 km from the accommodation, while Paraa is 9 km from the property. A high quality Lodge in the middle of Murchison Falls Park. Bamboo cabins are awesome with great design, great showers and great views. Amazing service.
Twiga Safari Lodge (Murchison Falls National Park)
eatures a restaurant and a bar, with free Wi-Fi and river views. The property is 11 km from Kasenyi and 13 km from Kimoli. Bugungu Wildlife Reserve is 33 km from Twiga Safari Lodge, while Paraa is 9.2 km away.
nevertheless, it's a fantastic place near the river with fine swimming pool, the food, the breakfast, & friendly personnel's as well as comfortable & clean tents with good beds, & decent bathrooms attached, do make your visitation alive.
Fort Murchison Lodge (Pakwach East)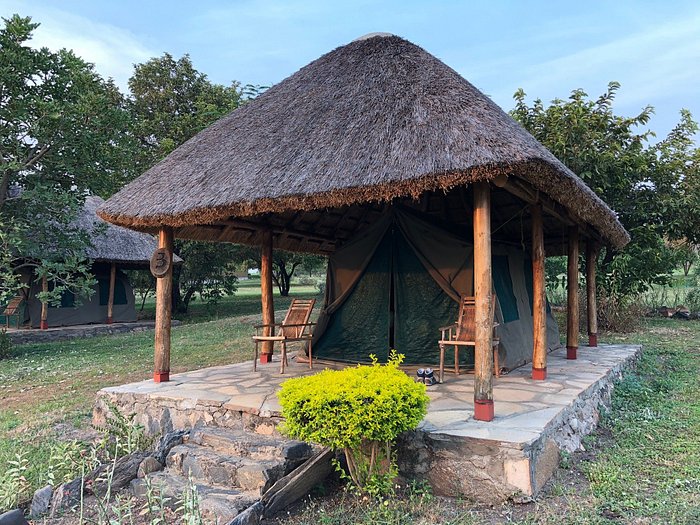 The Lodge has a restaurant, bar, garden, outdoor pool terrace as well as a balcony in all units. In the same way, the professionalism of staff is exceptional.
Tangi Safari Lodge (Pakwach East)
However, the location is in Pakwach East, 7.4 km from Pakwach, Tangi Safari Lodge provides accommodation with a restaurant, free private parking, a bar and a shared lounge. meanwhile, it's 12 km from Kapita and 15 km from Pace go, the property offers a garden and a terrace. lastly, the accommodation features a 24-hour front desk, room service and currency exchange for guests.
Parkside Safari Lodge 2 stars (Pakwach East)
Meanwhile, its located in Pakwach East, 7 km from Pakwach, Parkside Safari Lodge provides accommodation with a restaurant, free private parking, a bar and a shared lounge. Furthermore, each lodge has river views, and guests can enjoy access to a garden and terrace. In the same way, the accommodation offers a 24-hour front desk, airport transfers, room service as well as free Wi-Fi.
Global Village Hotel (Pakwach East)
Meanwhile, it offers a restaurant, free private parking, a bar a shared lounge, a garden, a 24-hour front desk, airport transfers, room service and free Wi-Fi.