MWEYA LODGE (LUXURY)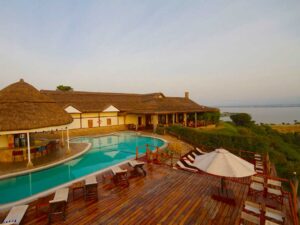 Located on the ridge of the mweya peninsula that distinct Lake Edward from Kazinga channel. This provides fascinating views over the lake and the channel. This lodge is located within the heart of queen Elizabeth national park good for travelers visiting the park as they are certain to discover the wide alignment of wild animal The lodge offers  range of activities and attraction such as game driving , swimming  ,trekking of chimps in Kyambura, boat cruising on Kazinga channel, crater lake viewing ,pelican point . This remote grassland lie 2kms beyond lake katwe which known as salty lake and provide strategy for one to enjoy excellent views.
KATARA LODGE (LUXURY)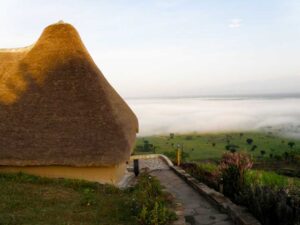 Located 16kms from katungulu gate of queen Elizabeth national situated on a great lift valley. This small lodge rooted on the hills which provide a clear site of the savannah plains and sits on escarpment farm land overlooking queen Elizabeth national park north words in the west of Uganda. It is the modest bush holiday stay over located only 20minutes drive away from vast and ideal base to explore the park. It facilities water salt in the pool, has five luxurious specious African thatched houses
IRUNGU FOREST LODGE (MID-RANGE)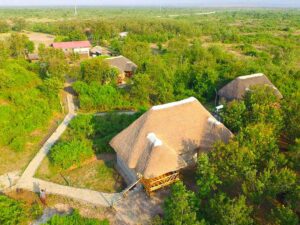 Located in the middle of Queen Elizabeth national park, 3 star mid-range located in Kasese western Uganda 11ms from katungulu gate. This lodge adheres eco-tourism and has 5 thatched cottages built 5verandahs and broad windows to take views of magnificent features.
Game drive in the park that gives tourists to spot more huge range of animals for examples tree climbing lions located in katungulu. For one takes 11minutes by car from Irungu forest safari lodge to Kyambura game reserves.
ELEPHANT HUB LODGE (MID-RANGE)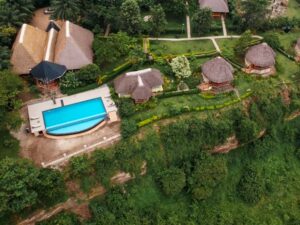 Located in Kichwamba luxurious lodge at periphery of Queen Elizabeth National Park.  Spacious haven perched at the shoulder of the famous Kyambura gorge 400m from Kyambura trading center, in accessory to this it offers huge for chimp trekking and place wilderness where elegance meet.
PUMBA SAFARI COTTAGE (BUDGET)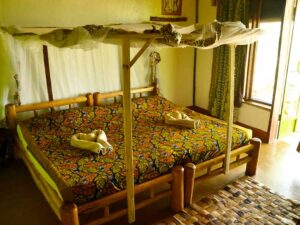 A budget comfortable  lodge located on the fringe of queen Elizabeth national park strategically providing a view of beautiful Kyambura gorge which is the magnificent valley of apes in queen Elizabeth national park and is a view of a new world of the natural environment.  3.4kms away from Kyambura gorge for view of savannah plains. Get a sight of nature and its beauty.
 BUSH LODGE (BUDGET)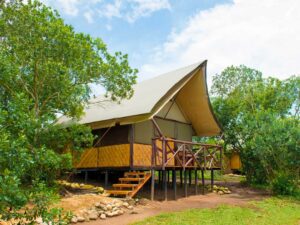 Located in south western part of Uganda on the boarder of Kazinga channel which provides clear scenery of mountain Rwenzori, Kyambura 3.2 miles from katungulu gate near Kyambura game reserve.
Lodge has 12 sustainable built traditional huts, the heart and sheltered camp of Queen Elizabeth dominant for wild life viewing and chimps trekking.  5.8kms from bush lodge to Kazinga channel where boat cruising is carried out and exploring hippos.
ENJOJO LODGE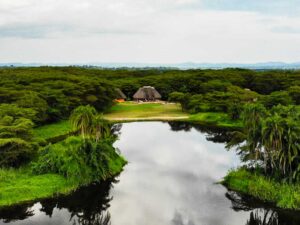 Ejojo lodge has luxury, budget and mid-range accommodation. Located south western section of Queen Elizabeth national park bordering Ishasha sector. Enjojo lodge retreat on 41 hectares of land in the middle of the acacia and enjojo lodge owned from Belgium. Enjojo lodges land had a theory for instance it had a birth of baby elephant during its construction. This lodge was constructed aimed at boasting Uganda tourism sector in Queen Elizabeth national park. The enjojo covered in agreen lush vegetation .the lodge quiet and comfortable, strategically located as you can watch the tree climbing lions. Perhaps bush break first in the park, meals and over nights, you can do birding, community walk and bicycle tours at enjojo, swimming does exit in presence of pools at the lodge. There is morning or evening vest to Rwenshama fishing village .due to good climate in enjojo lodge, you can enjoy sun bathing in enjojo court yard and bush camping in the park, nature walks also take place. So enjojo lodge is already to deal with your ambition destinations.