Uganda is one of the African's   most distinct and stunning locations, and your travels with Bonobos African safari Holidays takes you to the country's finest destination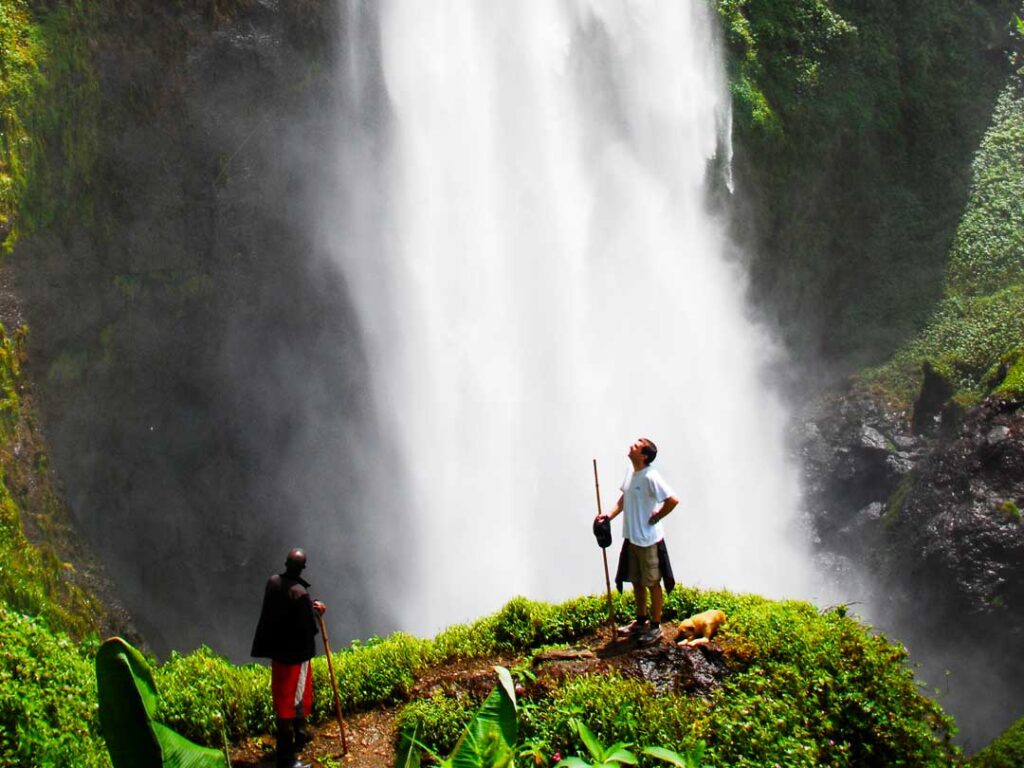 Uganda is a famous home for mountain gorilla in Africa
There are only two trekking spots in Uganda: Bwindi impenetrable forest national park and mgahinga gorilla national park. Uganda recognized as a home of half of the world's remaining mountain gorillas since Ugandans put effort in conservation every day and so far conservation group are working to harness traditional knowledge to protect apes while developing new techniques that allow humans and gorillas to peacefully coexist since in 20th century humans and gorillas had conflicts due rapid population growth. Mountain gorillas act as the "lungs of the planet", for them they clean the air of the carbon dioxide that leads to climate change and replacing it with the clean oxygen that we need to breathe. One can reach the only two trekking spots of the famous mountain gorillas in Uganda through Bonobos African Safari Holidays for certainty of security, best accommodation and among other facilities.
Uganda has chimpanzees
Uganda is a home to a number of population as approximated about 5000 individuals. Kibale forest national park is the main habitat for chimps in Uganda which is located in south – western part of the country. Today we know that chimpanzees are humans' closest genetic relatives –sharing around 98% of our DNA and for this Uganda use law to protect chimps which has limited hunting and guillotining them. The affordable and favorable Bonobos African Safari Holidays` ready to put one`s dream of touring the famous chimps in Uganda to light.
Uganda has variety of wildlife.
Uganda is gifted with a variety of wildlife and officially has checklist of 342 species. Some which include Uganda cob, chimpanzees, mountain gorillas, the African bush elephant, the African bush lion and the Cape buffalo among others representing both west and east African mammals. Through Bonobos African Safari Holidays one`s love for adventure is restored in Uganda.
Uganda has friendly local
Although Uganda is safe, secure and stable, it exaggerate love to the visitors in the motherland and most of the people speak English and those who can't manage use Swahili to greet.
Ugandans always love at first sight and for this is ranked in the top ten friendliest and welcoming country in Africa. Although they are rude in culture conservation. With this Bonobos African Safari Holidays offers the best access and of all it explains why Uganda is suitable for adventuring.
The mother source of the longest River Nile
People spent centuries searching for the source of River Nile since it is the home of crocodile, haven for wildlife and the longest River in the world. Victoria basin is the chief reservoir of the longest River Nile famously known as the source of the Nile well known found in the south eastern part of Uganda.
River Nile has  beauty of nature which attracts people to enjoy facilities like swimming , island viewing ,rafting ,bungee jumping  ,the spirits tree ,the rock tunnel ,kayaking , horse riding. One`s dream to explore the source of the longest River Nile is vacated to light with Bonobos African Safari Holidays.
Adventure
The adventures are well conserved, organized and naturally developing every day.
Uganda has national parks, game reserves and sanctuaries, these are well conserved and cared by Uganda wildlife authority for instance one can use bonobos African safari holidays to serve the desire for adventure in whatever activity you dream in Uganda such as trekking, exploring, rock climbing, mountain biking, mountaineering, zip –lining, rafting, ghetto tourism, caving among others.
Remote mountains
Most of Uganda`s mountains are remote some of which include mountain Rwenzori in Kasese, mountain Elgon in Mbale, mountain Moroto among other mountains. These mountains also gather forests such as mountain Rwenzori forests which provide a magnificent view that has attracted tourists in the country. They also harbor wildlife, catchment for picturesque water ways which has also aroused the spirit of adventure of tourists in Uganda. Via Bonobos African Safari Holidays one is ready to explore the remote mountains with their associated magnificent features like glaciers for example on Rwenzori Mountain.
Picturesque waterways
Uganda has very beautiful waterways which are attractive to explore some of which include Victoria Nile, Achwa, and Albert Nile among others. The magnificent scenery provided by these waterways has made Uganda the best destinations for marine holidays and the majority of people from different countries have willingness backed by the desire to explore the beautiful waterways in the country. Through Bonobos African Safari Holidays one`s desire to tour the picturesque waterways in Uganda is put on the top of horizon.
Conservation
The protection and sustainable use of the country's rich natural resources has been encouraged in Uganda which has created durable environment change. The government of Uganda has developed a number of policy regime to regulate land misuse and environment denaturing. Uganda has many conserved areas such as 10 national parks, 12wildlife reserve, 13 wildlife sanctuaries, and 9 Raiser sites which supplement to the extra –ordinarily endowed with a rich and high diverse wildlife resource. The easiest access through Bonobos African Safari Holidays is favorable and affordable for every willing tourist.
Responsible tourism
Tourism in Uganda is based majorly on wildlife, culture, marine as it provide a wide range in tourism due to presence of various wildlife and marine. This explains how the tourism sector of Uganda rich in Wildlife and thus the best destination for one's wildlife touring with Bonobos African Safari Holidays.
Beautiful scenery
Uganda has magnificent features which have attracted tourists in the country. It is characterized with highlands like mountain Elgon, Moroto, Rwenzori, Muhavura. The country has a snow caped mountain which is mountain Rwenzori and this mountain consist of magharita peak. The water falls like Murchison falls have provided good scenery due to the flowing waters and also the lakes and rivers with fresh waters. This has created an implication that Uganda is recognized as one of the best destinations for marine holidays with Bonobos African Safari Holidays.
The vibrant culture of Uganda
Uganda is characterized with a sounding culture that cater for every alien in the country though it consist of various tribes which are quite different with different culture and norms. The culture of Uganda in general is featured with hospitality habit and so this has attracted many people from different destinations in Uganda. This has made Uganda one of the top countries suitable for touring in Africa. Via Bonobos African Safari Holidays one can get access to easily tour Uganda for certainty of security about the tourists.
Worm food
Uganda has different kinds of foods which are healthy to human life .i.e. cassava, banana, and pea nuts pine apples, oranges, grapes. Such kind of food like cassava have aided in giving energy to the people, pumpkins have also helped in boosting the workability of the brain.
Bonobos African Safari Holidays claims that Uganda has your best destination in Africa due to its healthy kinds of food.
The wonderfully tropical  weather
Uganda`s weather condition is suitable for human life as it is tropical .i.e. both cool and warm. This is due to the presence of highlands and water bodies which provide cool temperatures and the hot prevailing winds which provide warm temperatures.
With Bonobos African Safari Holidays, the wonderfully tropical weather has boosted the desire of tourists in Uganda and is found as the best destination in Africa.
The largest freshwater lakes on the continent
Uganda has the largest lake known as Victoria basin which is the chief reservoir of the longest river Nile in Africa. Majority of the people from different destinations are in the world of fantasies to tour the source of the longest river Nile, with Bonobos African Safari Holidays, one should stop being in the world of fantasies
The strongest waterfall
Murchison fall is famous as the biggest and strongest water fall in Uganda.  It encroaches the longest river in the world squeezes through 9-7 meter gap and drops down 45 meters i.e. water course Victoria Nile. This has aroused the interest of tourists in Uganda due to the magnificent scenery provided. This waterfall is suitable for adventuring with Bonobos African Safari Holidays for certainty about the security of one`s life.
The highest number of primates
About 5000 primates of them on Uganda and 1500 found in Kibale National Park popular as ghincluding mountain gorillas, chimpanzees, golden monkey, olive baboon, black and white colobus monkey, De Brazza`s monkey, Grey cheeked monkey. Of the species, 13 of them are found in Kibale National park for instance Kibale takes almost 65% of the primate species in Uganda. In reference to tourism in Uganda, tourists from different countries are attracted by the healthier primates and this has contributed in the development of tourism sector.
Uganda is the best destination for wildlife trekking with Bonobos African Safari Holidays due to a variety of wildlife available.
Uganda has over 50 tribes with different culture
The generosity of Uganda in the whole of Africa for its hospitable tribes over 50 of them with different cultures in the. Such tribes include the bakiga, banyankole, basoga, baganda, batoro the few of them but with different cultures despite their hospitality.
 Most affordable safari destination
With Bonobos African Safari Holidays the access to your destination in Uganda to meet the dreams of trekking in the country is eased. As far as accommodation is sufficient, other funds avail and affordable for everyone to prosper.
Network connectivity across the country
The network across the country is favorable to the people as accessibility to different connections is cheap. For instance flexibility of messages, information transfer and retrieval has been eased in Uganda and so costs have also been reduced. Communication networks in Uganda are also favorable to people due to the available highlands like mountain Elgon, Rwenzori, Moroto among others. Transportation networks such as road, rail, inland water and air transport. For example Queen Elizabeth national park can be accessed through three routes depending on where you come from and this has eased transport as one can get access through the three routes i.e. Kampala-Mubende-Fortportal road for those coming from northern side, Mbarara –Kasese road for those from south western side, Bwera-kasese for those from the eastern side, kanugungu-kihihi-kasese road via Ishasha for those from Bwindi.
Uganda is a bird heaven; 1066 bird species recorded
Uganda has over half of all bird species in Africa making it one of the richest bird watching destination on the continent.
According to Bonobos African Safari Holidays Uganda is the paradise of birds since the truly heaven for bird watcher because they have desire for colorful bird species such as crested Crane, African Fish.
In 2016 Uganda ranked number one globally   for the number species guaranteed to be seen over a three week trip  so Uganda is every your dream bird.